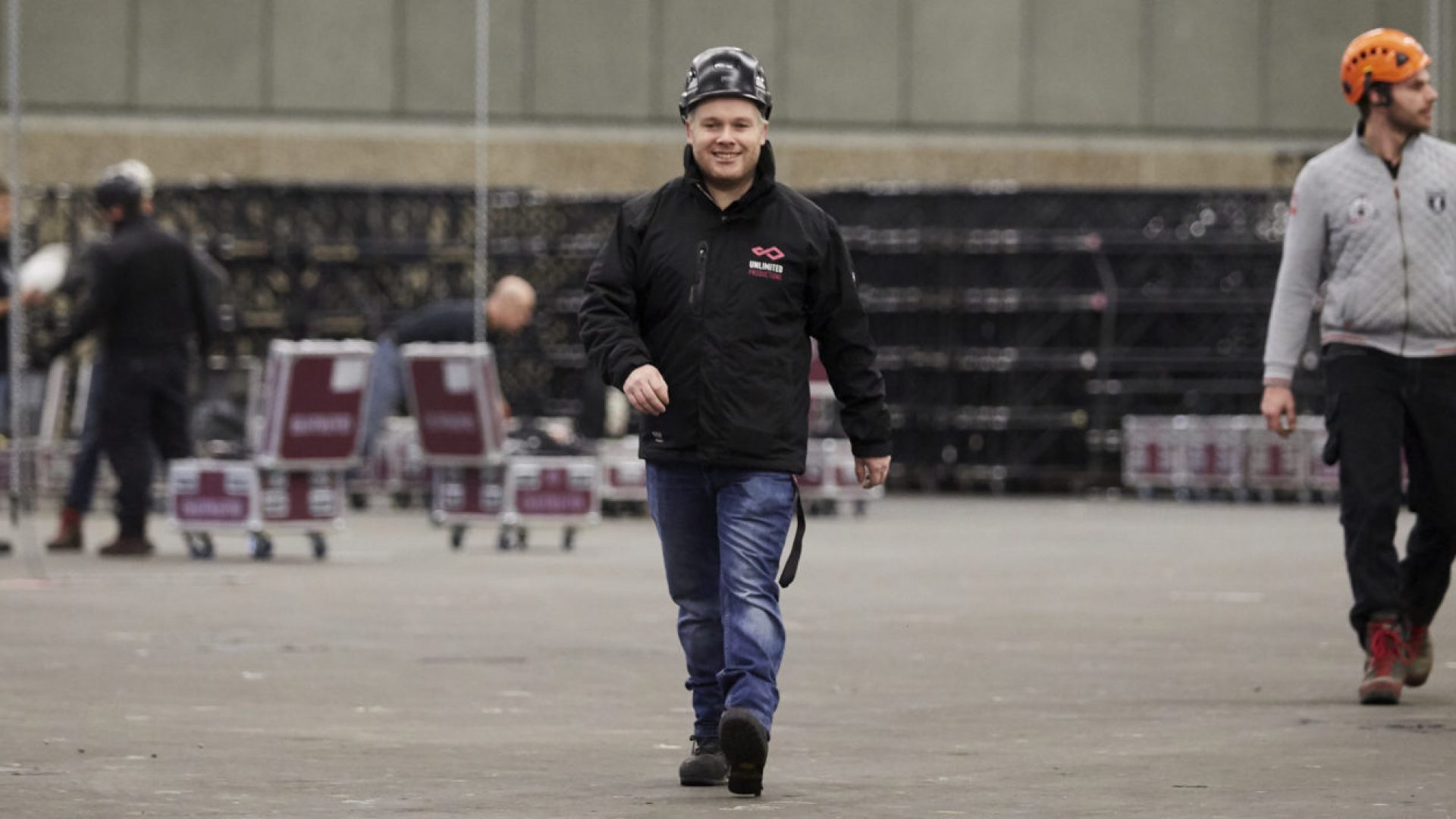 Meet the team: Jörgen Dohmen
Commitment, flexibility and teamwork are some of the qualities of our crew. Unlimited Productions offers the creative and technical expertise to make your event memorable and effective. Because you might not know all the faces behind Unlimited Productions, we'd like to introduce the team to you, one by one.
Next up, Jörgen Dohmen
Hi Jörgen! Who are you and what's your role?
Hi, I'm Jörgen Dohmen 39 years old. Living in Rijen with my wife Kelly and my daughter Julia (1,5 years). I work as a project manager for different projects. Besides that, I am also managing our drawing software Vectorworks and our Rental department.
How did you end up at Unlimited Productions?
I know Bart Roelen since he was 15. We worked at the same company 20 years ago (RSL). After a few years I left the company and started working at different Rental/AV-production companies. In 2016 we worked together on the event "Gabbers". Bart was doing the technical production and I was project manager for the light/rigging company. After that production we had a chat and in 2017 I started working at Unlimited Productions.
Can you tell us a bit about your day?
Luckily almost every day is different. Today I'm at the office doing pre-production for different projects and I have meetings with colleagues. At the office it's always fun and there's a good collaboration between all the colleagues.
What's the best part of your job?
The best part is the diversity of the work. No day is the same.
What makes working for Unlimited Productions great?
It's really one team with great colleagues. They all are very dedicated and very professional. We also have great clients with very nice events so every project is great to be a part of.
What is one word that you would use to describe your team?
Dedicated!
What makes Unlimited Productions different from other technical production companies?
The people! Everybody is always trying to go for 200%. Every individual has his own qualities and all together we have a lot of experience and knowledge.
What has been your favourite Unlimited Production so far?
That's a hard one because they are all different. If I have to choose I think the international corporate event we produced in the RAI in January (can't disclose the client). It's so massive and we worked with a lot of suppliers and freelancers as one big family.
What advice would you give anyone who is thinking of organising an event?
Always make a clear plan and be transparent, budget wise and in terms of what goals you have. It will make everybody's life easier and you will reach your goals faster.
What do you do with your free time?
Spending time with my family and trying to go to Curacao 2 times a year with them for some relaxing, diving and great food. Diving is one of my passions, but I only do it in tropical water 😉
What inspires you?
Innovative techniques to make everything better and easier.
Can you share a throwback moment with us?
Just one? With this work you have a lot of them. They're always told during lunch. A private one is the birth of my daughter Julia on 23-3-2017. That was definitely one of the best moments in my life.
Please come up with a question for your colleague that will get the interview next.  
If you did not do your current job, what would you like to do?