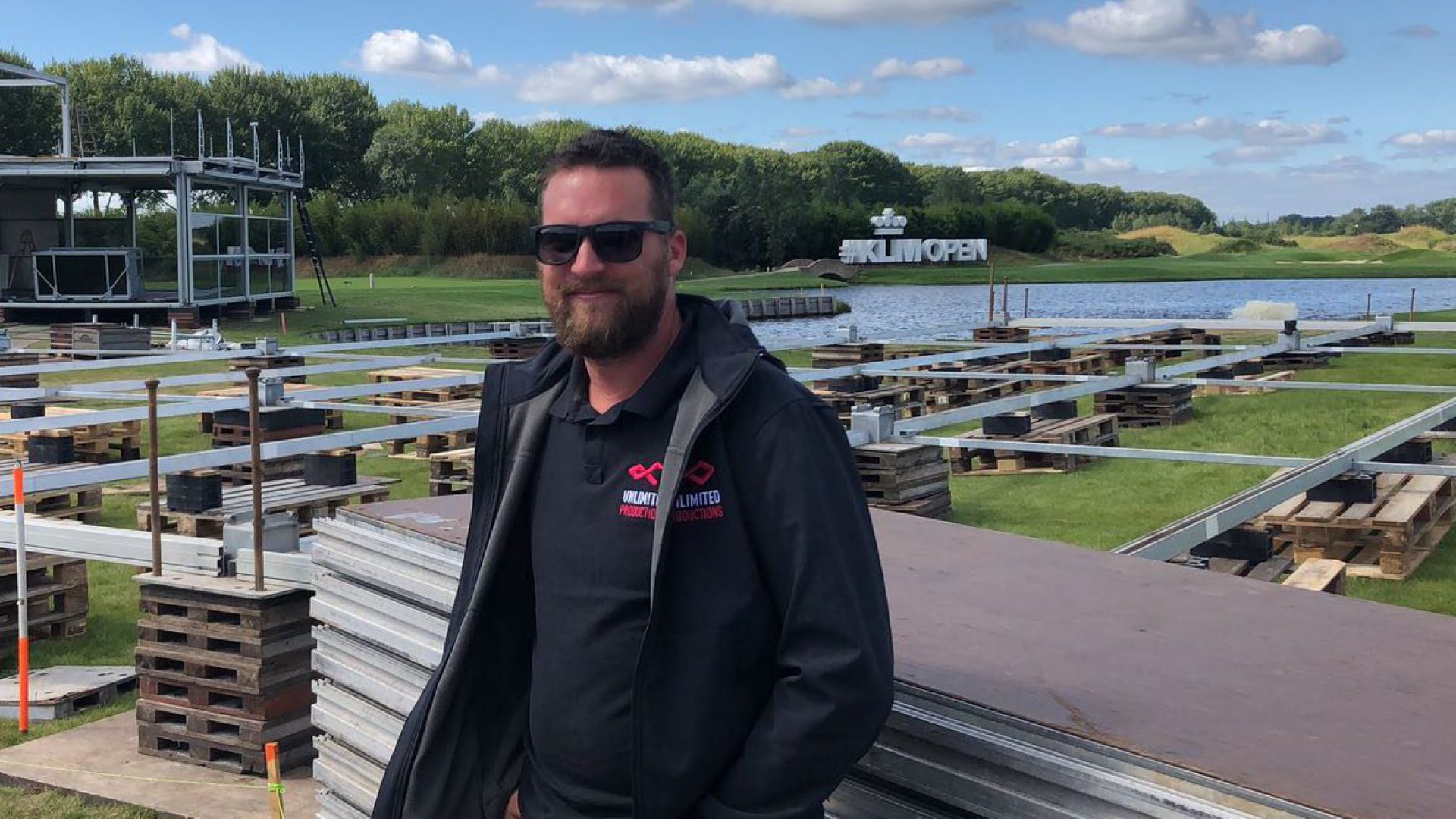 Commitment, flexibility and teamwork are some of the qualities of our crew. Unlimited Productions offers the creative and technical expertise to make your event memorable and effective. Because you might not know all the faces behind Unlimited Productions, we'd like to introduce the team to you, one by one.
Next up: Jasper Brouwer
Hi Jasper! Who are you and what's your role?
Hi, I'm Jasper Brouwer and I live in Rotterdam together with my girlfriend Meike and our dog Oscar. I have been working in this branch for over 20 years, of which the last 10 years at Livetime Productions. In my role as project manager I am mainly specialized in site production.
How did you end up at Unlimited Productions?
Ten years ago, when I was working in the event branch for various clients, I was ready for a new challenge. I received a hint that Livetime was looking for a junior production manager who could manage technical as well as site related services. I had already worked with Livetime on several assignments in the past, so I was familiar with the company. I have always liked them, so I send them a message and joined the Livetime team shortly after (now Unlimited Productions).
Can you tell us a bit about your day?
The variety in work is what makes this job so fun and interesting. No day, or even week for that matter, is the same. One day I am preparing productions and making technical drawings in the office, the next day I am literally standing in the mud of a production site and making sure everybody can do their job. Together with the client, suppliers and our own crew, I always want to achieve the best results possible.
What's the best part of your job?
Because I have been with the company for many years, I now have a large network of suppliers, colleagues and freelancers in our branch. I have also built extended knowledge about event locations and venues. That makes it easy to decide whom to approach for different projects. By combining all our expertise in this business, we always try to make our clients, but also the events guests, happy with the final result.
What makes working for Unlimited Productions great?
For me personally there are many things. The variety of the productions, big or small, national or international, with your feet in the mud or dressed in a suit and tie, that's what makes it diverse. Besides that, the fact that I can work independently but still being able to build on the expertise of my colleagues and our suppliers, really motivates me.
What makes Unlimited Productions different from other technical production companies?
We have an extremely dedicated team and together we have a lot of experience in all parts of this branch. As a result, we can provide custom service and a wide range of expertise to any type of event. Respect for the client is our number one priority. We always do our best to create the best event possible.
What has been your favourite production so far?
During my career at Livetime/Unlimited I have had the opportunity to do many great productions. Two of them are extra special to me: the inauguration of our King Willem-Alexander, as well as President Obamas visit to the Rijksmuseum in Amsterdam.
What advice would you give anyone who is thinking of organising an event?
Organizing an event often comprehends more than people think. Therefore my advice would be to request information from people with knowledge and experience in this branch. Furthermore, be realistic. Creative ideas sometimes seem simple, but they can be difficult to execute technically.
What do you do in your free time?
I try to spend my free time with my motorcycle as much as possible. Not only repairs and maintenance, but I also enjoy off-road riding. I love to go on camping trips with my motorcycle. I like to discover new places and experience the local customs.
What inspires you?
People with passion for their job and company.
If you did not do your current job, what would you like to do?
I would have loved to do fieldwork for a charity. Even though you will see and experience a lot of misery in this world, I think it would give me a sense of satisfaction to be able to help other people in need.
Please come up with a question for your colleague that will get the interview next.
What is the biggest challenge you have had in your job so far?