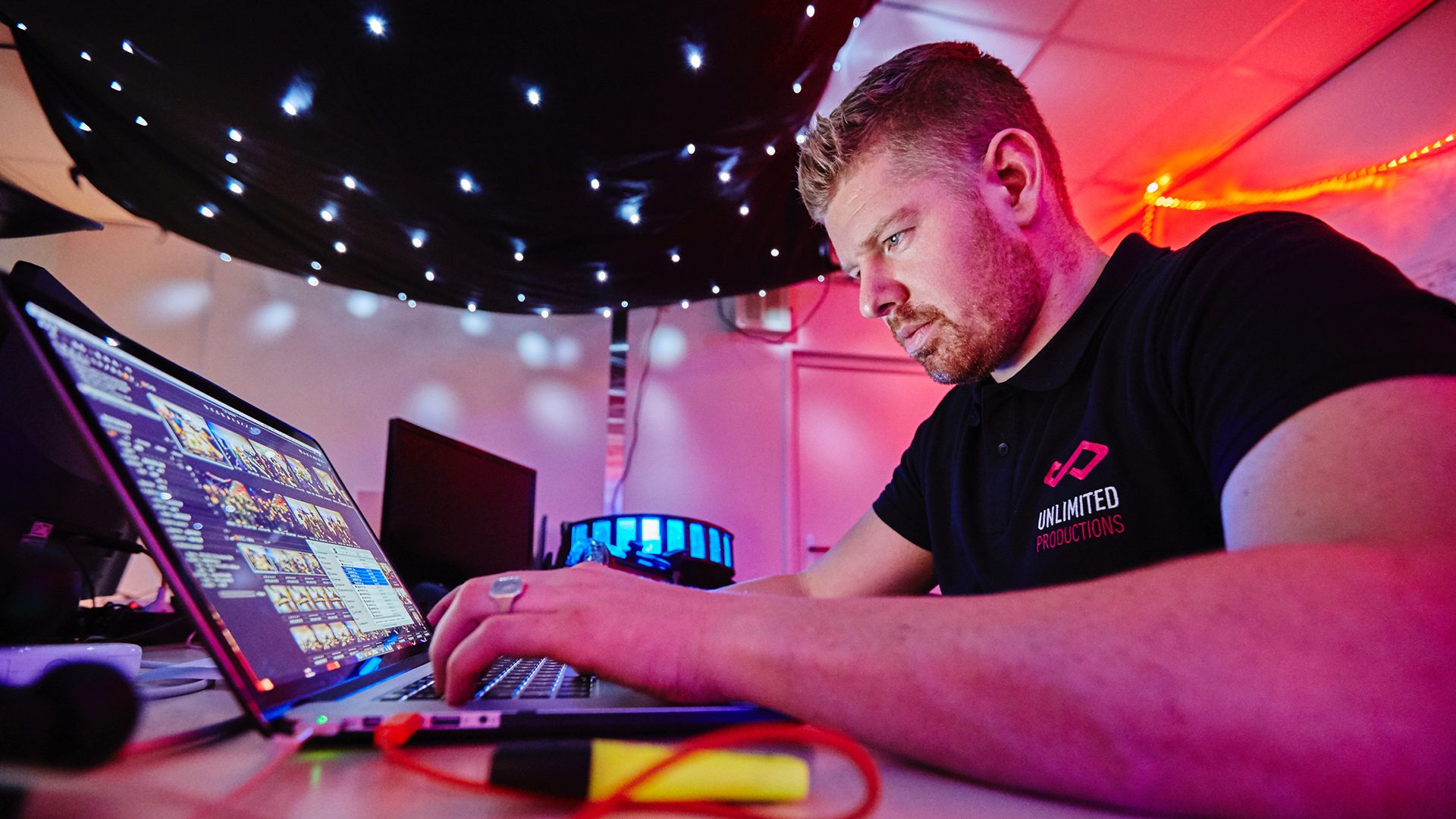 Commitment, flexibility and teamwork are some of the qualities of our crew. Unlimited Productions offers the creative and technical expertise to make your event memorable and effective. Because you might not know all the faces behind Unlimited Productions, we'd like to introduce the team to you, one by one.
Next up: Fons van Egmond
Hi! Who are you and what's your role?
Nihao! I am Fons, 32 years old. I am born and raised in Harmelen, a small village near Utrecht. After high school, I went to ROC Utrecht and completed an MBO4 Sound and Light course. Next, I went to Rotterdam to pursue a college degree in Event and Hospitality Management. After completing that I noticed that sitting at an office was not for me and I started freelancing. My role at Unlimited Productions is Production Manager. As Production Manager I am responsible for preparing and executing productions within budget and planning.
How did you end up at Unlimited Productions?
I have met Bart (COO of Unlimited Productions) in 2013 during the load in of an award show. Since then I have been freelancing for Unlimited Productions. February last year Bart asked if I was interested in joining the team. The contracts were signed a week later.
Can you tell us a bit about your day?
Well, at this very moment it is a little bit different than normal, because of the COVID-19 virus. So let me take you back to this time last year. Last year I just came back from France where we did a production to remember the D-Day invasion that started 75 years ago. I had little time to rest, because the following week we had to travel to Denmark for Tinderbox festival. The truck had to be loaded, so I helped my colleague Gijs. Later that day we had an internal evaluation about the production in France. I also had to go through some emails for the Martin Garrix Anima tour that started the following month. So as you can read, my day is normally very diverse and all kinds of things come up.
What's the best part of your job?
Diversity. One week you're with your boots in the mud at a rainy festival and the next week suited up for a corporate meeting on the other side of the planet. Pure love!
What makes working for Unlimited Productions great?
As described above. The variety of projects and work we have. After a few weeks on the road or on production it is always good to be back at the office. It feels like coming home. And then there is the laughter. Pay attention to how much fun we have at the office or at productions without compromising the result (actually enhancing it).
What makes Unlimited Productions different from other technical production companies?
There are several things. For starters.. the family feeling is enormous in this company. I can always count on the help of my colleagues. Not one day is the same at the office. We work hard with a lot of dedication, but there is always room for a joke or a laugh. 
Second, the "if my hands have to get dirty to benefit the production, I will do it" mentality. You can sit in your office or you can help someone. If you help him and be friendly, you will benefit next time.
What has been your favourite Unlimited Production so far?
That is a hard one. I have done a lot of great productions over the years. Magicbox is a nice one for sure, but the corporate events in Amsterdam, Seoul and Tokyo were magnificent as well! Not even mentioning last year's Martin Garrix Anima Tour. That was awesome!
What advice would you give to anyone who is thinking of organising an event?
Do not hesitate to contact us, we are here to help you! With 30 colleagues there is a lot of in-house experience.
What do you do in your free time?
I like to go to the gym, play a game of squash, or catch up with my friends and family. When FC Utrecht is playing at home, you will find me at the stadium. Going to the stadium gives me the chance to clear my mind and think about nothing else but football.
What inspires you?
My Parents. I grew up on a farm, my parents had to work (very) hard for the small income they had. While making typical Dutch farmhouse cheese was sufficient enough, they started with something they believed was a gap in the market. Trough training, trial and error and a lot of dedication, they developed a new cheese. During that time, they also had to raise me and my two brothers. They taught me the values I still stand for today. 
Someone once told me: "Everyone gets one mega- opportunity for success, it is yours to take it!"
If you did not do your current job, what would you like to do?
I have absolutely no idea. I think it will have something to do with events.
What is one word that you would use to describe your team?
Passionate.
Which segment of Unlimited Productions do you like the most? (Corporate, Festival, Public, Artists, Sport or TV/Shows & Concerts) of Unlimited Productions do you prefer and why?
Not one in particular, diversity is key in this.
Please come up with a question for your colleague that will get the interview next.
Where do you see yourself in 10 years?