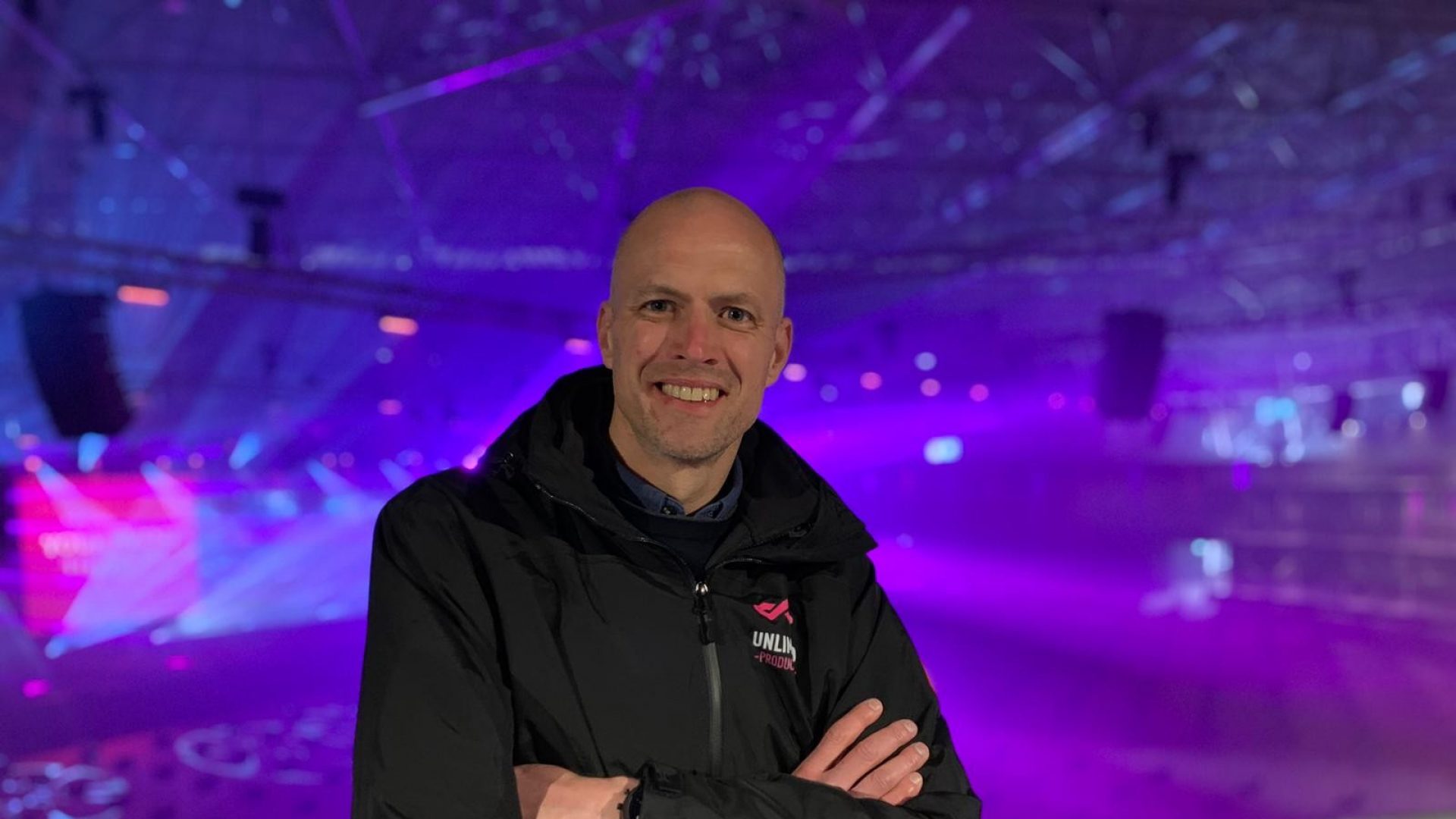 Meet the team: Jurgen Hoekstra
Commitment, flexibility and teamwork are some of the qualities of our crew. Unlimited Productions offers the creative and technical expertise to make your event memorable and effective. Because you might not know all the faces behind Unlimited Productions, we'd like to introduce the team to you, one by one.
Next up: Jurgen Hoekstra.
Hi! Who are you and what's your role?
Hi! My name is Jurgen Hoekstra and I live in Rotterdam together with my wife, two kids and a dog. I joined the Unlimited team as Sales Manager on March 1st, 2021.
How did you end up at Unlimited Productions?
I've known Unlimited Productions for many years from my previous job at Ahoy. We've worked together on many great projects over the past few years. After 20 years working in a venue I was ready for a change. I still love the buzz and excitement of events, but I wanted to work on events from a different perspective. Then the opportunity came to join Unlimited Productions. To me, that was a perfect fit. 
Can you tell us a bit about your day?
Of course, days in a pandemic are a bit odd, but on a regular basis my days are really different. I try to get out to meet clients as much as possible, visit events, workshops, conferences for inspiration. That in combination with work and meetings at the office pretty much makes my day. 
What's the best part of your job?
The best part of my job is that I get to meet and work with so many creative and inspiring people. To team up with them and bring their idea to life and even exceed expectations makes me really happy. 
And also, when working in the event industry, you are a part of creating a fun, unforgettable or maybe even a life-changing experience for the audience. This has always been very special to me. 
What makes working for Unlimited Productions great?
First of all, for me, it is the combination of pure professionalism combined with a great bunch of people. Where working on top of the league and fun go hand in hand. I think that is very important in a job. Although I am pretty new I can already feel that there is a very strong family-type atmosphere in this company and everybody is willing to help each other. 
But also, I like the diversity in events that we operate in. One day you'll be working on a sports event, the next one on a music show, festival, corporate or dance- event, you name it. The diversity of events and the people creating the events make it great.  
What makes Unlimited Productions different from other technical production companies?
What makes Unlimited Productions unique is that we have the experience of working with so many different events in very diverse segments on both national and international scale. Whether it is a festival for thousands of people, a major sports event or a high-end corporate event, we walked the walk. That gives us so much combined knowledge in the company, we could handle any event in the world no matter how complex or complicated.
Also, our approach to events with our 4 phase process model makes sure that our preparation is rock solid and that pays out on production days where our productions run smooth, on time and there is even time for a laugh.
What has been your favourite Unlimited Production so far?
Well, there's a few: from a production point of view, the most impressive one was the celebration of 400 years VOPAK. Any special effect you can think of was there. A giant round LED wall that could move up and down, a rain wall with projection, a DJ booth descending from the roof with multiple lasers. But also a life-size 12 m big ship that sailed through the venue to tell the story of the start of the company. The visitors were truly overwhelmed with all this spectacle. 
Another event where you really see the added value of Unlimited Productions is the Dutch Military Tattoo in Ahoy Rotterdam. This impressive event, with many musicians from all over the world, had a quite static decor in the shape of a palace. When they were thinking about changing the decor, we came up with a different solution. We designed LED screens which added more content and enhanced the entire customer experience. This is where the expertise of Unlimited Productions came in: knowledge, creativity and much more production value for the budget. 
Lastly, for me personally, was the Visit of H.H. Dalai Lama in 2018. This wasn't the most impressive event in a technical way, but it was in a magical way. It was very special to work with a group of passionate volunteers who organized the memorable visit and fully relied on our expertise and to be part of this once in a lifetime event.  
What advice would you give to anyone who is thinking of organising an event?
First of all: call us! But seriously, my genuine advice to any organiser would be: give us a seat at the table as soon as you can. We are so well aware of all technical possibilities and solutions you can find in the market. Use our expertise, it makes your event better, both in terms of value and money.  
What do you do in your free time?
I really like to get out in nature and enjoy a long walk with my family and dog. Although I have to say the dog is more enthusiastic about this than the kids. After a long walk, it is great to enjoy a nice glass of wine and share that with friends. In the summer I play beach volleyball, and year-round I like to challenge nature on my mountain bike. I am trying to pick up my old hobby of windsurfing again since we moved to a place with a lake nearby. During holidays, my family and I like to see as much as we can from the world. 
What inspires you?
Wow, there actually is a lot that inspires me. It could be from the way Wim Hof climbs a mountain in shorts, to my daughters' karate teacher. I even get inspired by a seamless customer experience. Or an iPhone with a million possibilities without a user guide because it is so intuitive. I like it all, and take best practices with me to both my professionally and in my personal life. 
If you did not do your current job, what would you like to do?
When I was travelling I always figured that my perfect job would be where you could work bare feet. Since it probably isn't really appropriate to show up without shoes in Breda, that probably leaves me as a surf lesson instructor or at a beach bar. 
What is one word that you would use to describe your team?
There are 2 words: passion and professionalism!  
What is the craziest situation that you have ever experienced?
The craziest situation professionally was probably, after weeks of preparation, a crewmember (not ours!) hit the fire hydrant with a forklift only a couple of hours before the opening of an event. Thousands and thousands of litres of black, smelly hydrant water was flushing in the venue. It took all the hands we could find to fix the hydrant and clean the venue to be ready and still open the doors on time! 
Please come up with a question for your colleague that we will interview next.
If you have to choose a different country or city apart from the Netherlands to live in; Where would it be? And why?