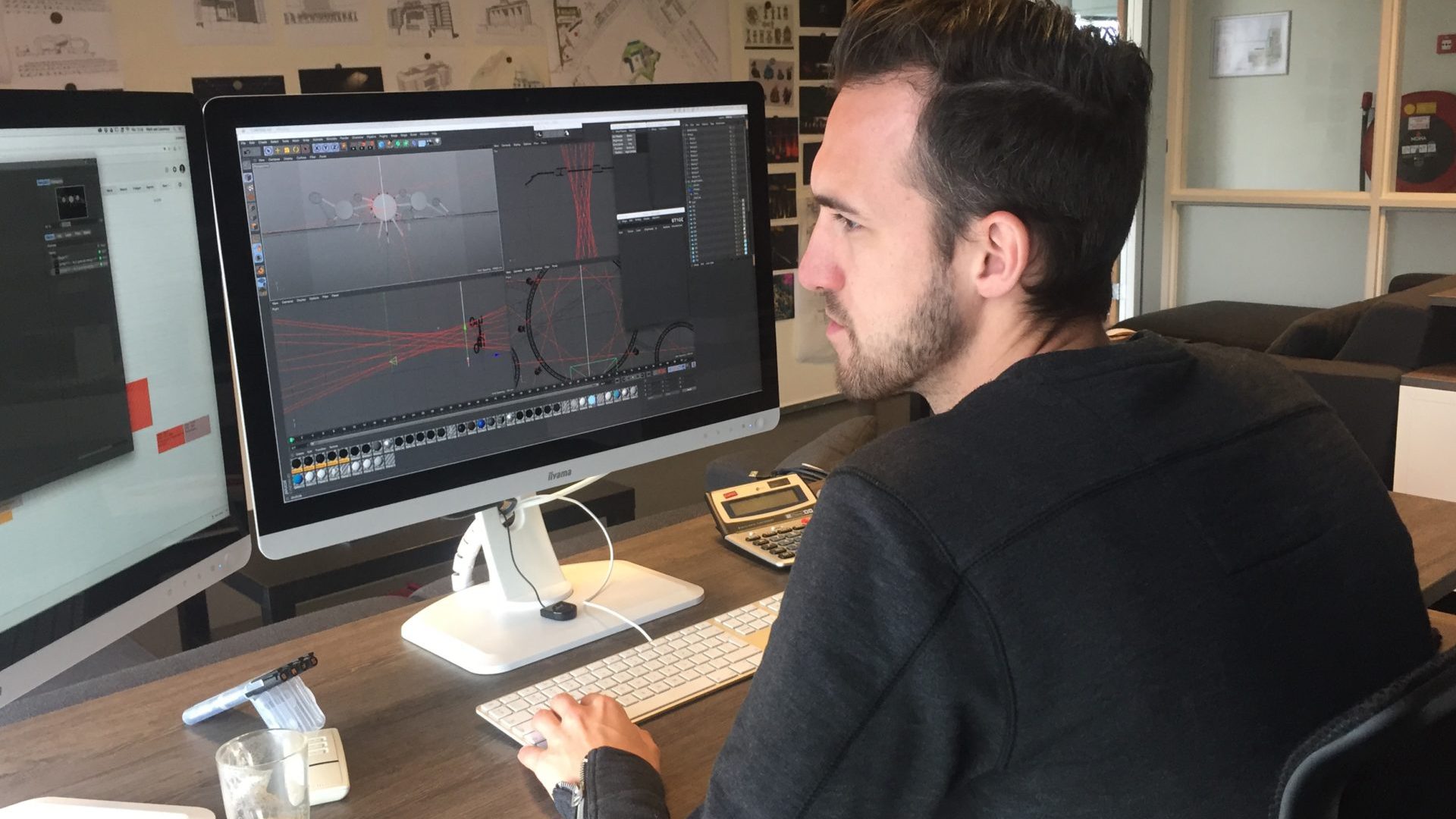 Meet the team: Mark van Loenhout
Commitment, flexibility and teamwork are some of the qualities of our crew.
Unlimited Productions offers the creative and technical expertise to make your event effective & memorable.
Because you might not know all the faces behind Unlimited Productions, we'd like to introduce the team to you, one by one. 
Introducing.. Mark van Loenhout
Hi! Who are you and what's your role?
I am Mark van Loenhout and I'm responsible for most of the designs that we create within Unlimited Productions.
How did you end up at Unlimited Productions?
During my study I worked for Unlimited Productions and Unlimited FX in the weekends to make some extra money as a production manager. After finishing my Master in Architecture in 2010 it was hard to find a job within architecture because of the bad economical situation in the Netherlands in the construction industry. Unlimited Productions was looking for a tour manager for Sander van Doorn, so basically after graduation I jumped right on the first plane to Miami to run my first show. I managed his tours for two and a half year until Sander asked me to take care of his general management. In between shows in the planes or hotel rooms I worked on designs until we came to a certain point wherein I had to make the decision to go for the artist management or the design direction where my passion still was at that moment. This wasn't a hard decision for me, so I chose for design what is where I am still focussing on until today.
Can you tell us a bit about your day?
I always start my day with my emails and a nice cup of coffee. After this I start working on the projects where I am working on at that moment. They all run past each other at the same time. I have a large wall that reflects the progress of all the ongoing projects. That wall isn't the same for one day, so this means there is enough work in progress.
What are your goals with Unlimited Productions? Things you want to achieve?
I would love this creative "studio" to remain expanding and developing in the same rising line as it is doing at this moment. This means we will have a bright future with a lot of creativity and nice designs ahead.
What's next on your agenda?
The summer season is getting close which is pretty hectic, but also very diverse. Several festivals and events for Unlimited Productions in and outside the Netherlands, from Denmark, to Austria, China and Singapore. I'm mostly busy drawing and executing the scenic part of the production, but also still a few shows as a production manager because this is still a really fun thing to do and I want to keep the feeling with the team on location.
Three must haves during production?
Clear drawings; the way of communicating with a lot of words can't beat communication by a clear drawing

My MacBook, couldn't do it without this one

My Leatherman: This tool is usable for almost everything 
What makes working for Unlimited Productions great?
When I wake up in the morning I don't wake up with the idea that I have to go to work. Because of the nice working environment and work that I love to do, with a nice group of people that are closer to friends then colleagues, it makes a day at the office a really pleasant one.
And what has been your favourite Unlimited Production so far?
MagicBox in Denmark is my favourite Unlimited Production. We are involved from the first year which makes it really nice to see this area evolve each year. For me personally this is a project where I can experiment with new techniques, because we produce this from the first pencil drawing on paper to show control during the event. This makes it possible to be creative in multiple disciplines and see what we created and how it works out during the show.
What makes Unlimited Productions different from other technical production companies?
I think that the Unlimited mentality is something that differs us from other companies. It is important to have a good atmosphere and a laugh during production and at the office, but everybody is focussed and prepared to put some extra effort wherever and whenever needed.
What advice would you give anyone who is thinking of organising an event?
Hire Unlimited Productions to think and create your event with you.
What are you missing in our company, that we can add?
A pool table. 
Please come up with a question for your colleague that will get the interview next.
If you were an animal what would you be?