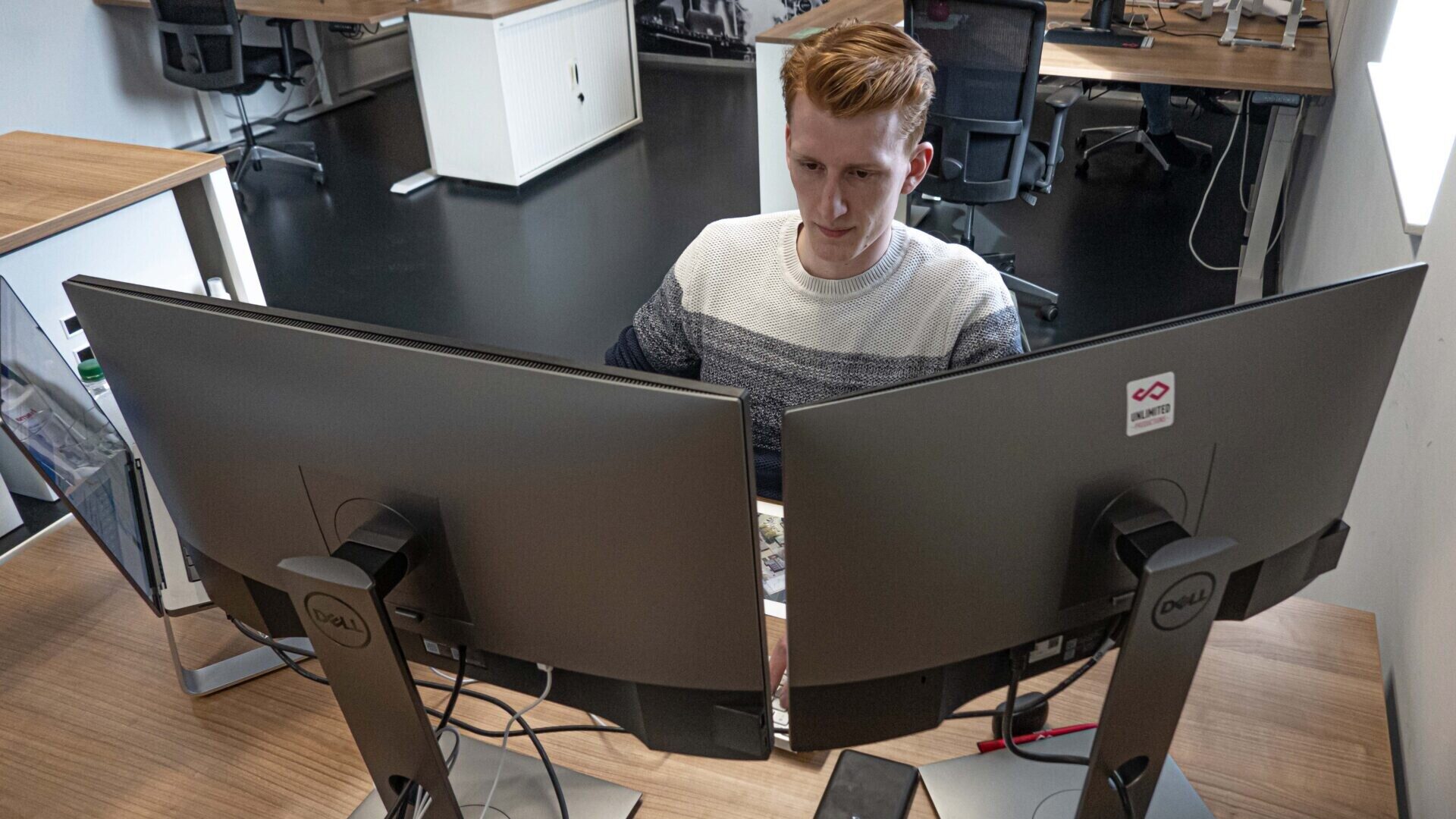 Meet the Team: Sander ten Brinke
Commitment, flexibility and teamwork are some of the qualities of our crew. Unlimited Productions offers the creative and technical expertise to make your event memorable and effective. Because you might not know all the faces behind Unlimited Productions, we'd like to introduce the team to you, one by one.
Next up: Sander ten Brinke
Hi! Who are you and what's your role?
Hi! My name is Sander ten Brinke, I am 24 years old and I take care of everything related to IT & Development. This role includes developing plugins and tools for our CRM system and our CAD software Vectorworks, setting up laptops and hardware, but also asking the iconic question "Have you tried turning it off and on again?" when colleagues run into issues. When times are busy, I help out by making Vectorworks drawings as well.
How did you end up at Unlimited Productions?
I've always wanted to be involved in the event industry and I was planning to get into the industry as soon as I finished my bachelor 'Computer Science'. Unfortunately, Covid-19 happened right after I graduated, so I had to put these plans on hold for a bit. After 6 months, I emailed Bart and got in contact with Jörgen and Thomas. A couple of months later, Jörgen called me and not soon after I started working at Unlimited Productions.
Can you tell us a bit about your day?
As with anyone working at Unlimited Productions, no day is the same. I usually start my day off by checking my email while I'm on the train to Breda, and if there are any urgent issues I take care of these first. During the day I can be found doing a lot of things including coding, Vectorworks and answering the occasional calls for help.
What's the best part of your job?
Besides seeing all the amazing projects we do, it is really cool to help take Unlimited Productions to the next level. We always try to be one step ahead and IT plays a major part in this.
What makes working for Unlimited Productions so great?
The team! The atmosphere is really special. There's a lot of humor and nobody takes themselves too seriously. However, when work needs to be done we work together to offer the best solutions on time. Everyone wants to help in their best way.
What makes Unlimited Productions different from other technical production companies?
At Unlimited Productions we lift each other to a high standard and we are always looking for improvement. We don't avoid unknown area's. Whether this involves production or IT, we aim to be the frontrunner.
What has been your favorite Unlimited Production so far?
Since I started working in the middle of the pandemic, I have not really experienced a lot of productions. However, I can tell you a bit more about my favorite IT project: connecting our ERP system to everybody's calendar. Within this project, I built one of my first tools for Unlimited Productions. The tool automatically creates a calendar item in the employees' calendar when somebody is scheduled in the system at a specific work location. This makes sure it is very easy to see where somebody is working, for example: on-site at a project or at the office. It was really nice to see how it was received by everyone.
What do you do in your free time?
I love to work-out and do sports, but I also like to play video games with friends. I also like to use my hands to create something, for example baking bread. Recently I started learning woodworking as well.
What inspires you?
People with a passion for what they do.
If you did not do your current job, what would you like to do?
Great question! If it wouldn't be something in the event industry, I would probably be doing something completely different, like being a physiotherapist or owning my own bakery. I might even be going back to selling fruits and vegetables at the local farmer's market.
What is one word that you would use to describe your team (or our company)?
Devoted
What's the best/most memorable event you've ever been to and why?
This has to be Brännbollsyran in Umeå, Sweden. Not because of the production, but because this event marked the end of my year studying abroad in Sweden and I got to do this with some great friends that I met during that time. Because Umeå is so far up north, it was cool to watch the sunset and -rise within about 30 minutes during the festival.
Please come up with a question for your colleague that we will interview next.
What are the best and worst things that happened during a production?