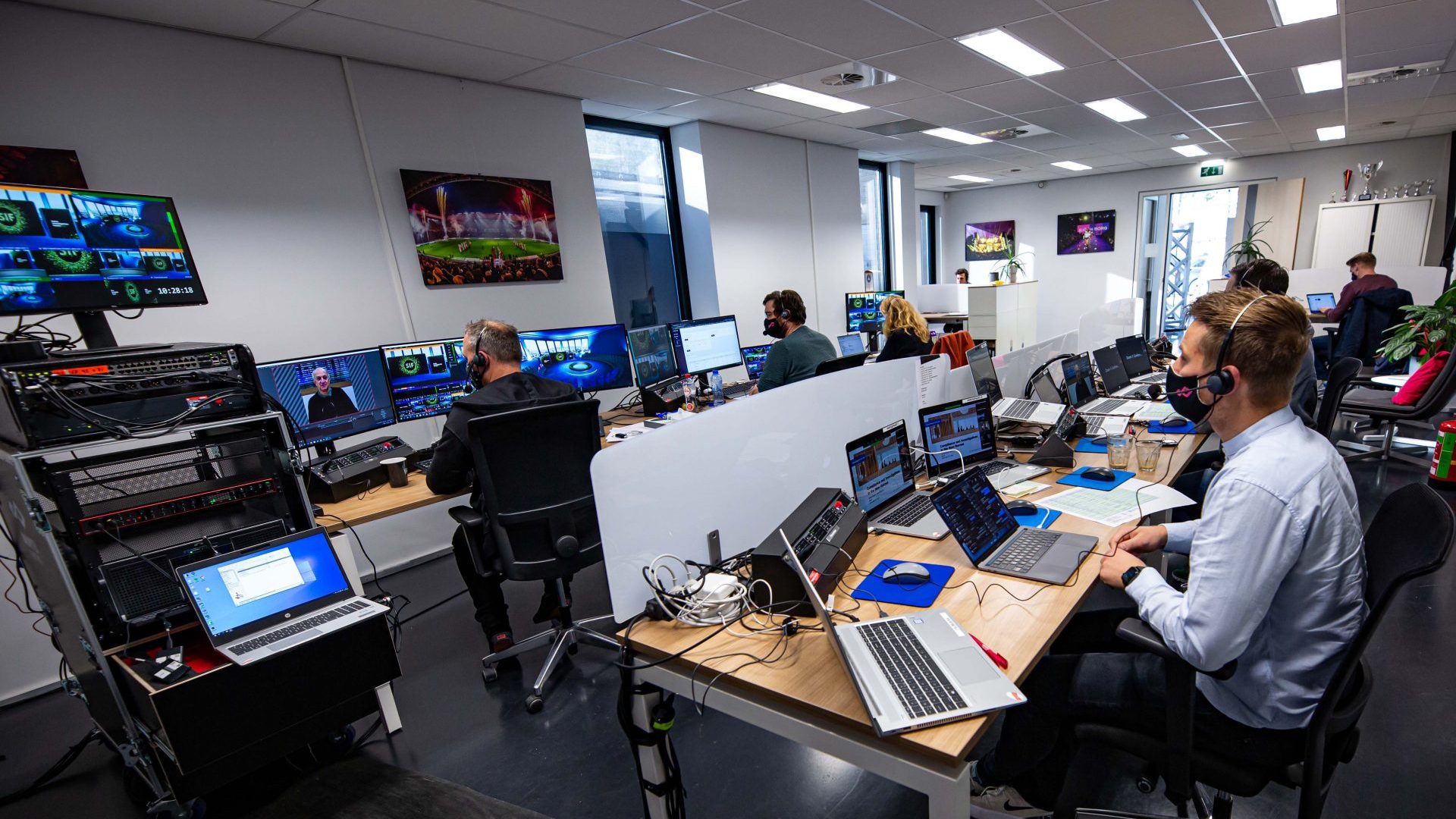 Online events are here to stay.
While online events will never fully replace face-to-face events, 2020 forced us all to adapt to new ways of delivering entertainment. Despite not being able to physically get together at this point, the need for people to be connected remains. Companies are still looking for a connection with their employees, customers, fans and/or stakeholders.
In the digital event spectrum, a wide range of solutions are available. From a conference call where several people have a conversation, to practically a TV broadcast with digital guests. We can transform existing live events, or create a totally new online event. Mostly depending on the degree of interaction that you are looking for.

Our role as a trusted event partner is to help you understand the options available to you and help you navigate to find the right solution for your event needs. Both offline and online. In essence, our work remains the same for online events. We discuss the wishes and needs, we test the technical feasibility and ultimately convert what our customers envision into technology.
There is a lot to consider when creating online events. The pace is faster and the content needs to be sharper. There is often (live) switching between presenters, video's, group conversations and reactions via a live chat or interaction tool. Getting all this on the right track is very exciting and by no means for everyone. Nowadays it is more important than ever that there is a 'run of show' beforehand, during which you actually go through the show and each key switching moment, so that everything is covered technically. Compared to a live event, there is little flexibility on location with an online event.
In terms of events options, we can currently divide them into 3 categories:
1. Live (offline)
2. Hybrid (online/offline)
3. Digital – including virtual (online)
Live events are the events we all know, with small or large audiences in a physical location that gives everybody in the room the same experience. Nowadays they are often characterized by creative stage designs, huge video surfaces, time-coded light shows, a powerful audio system and the use of special FX for live shows.
Hybrid events form a combination between live and digital. In essence you have people watching online, but also physical guests on location. If you choose a hybrid, you have to make sure that what people see in the room or venue can also be transferred to the camera and vice versa. This balance between online and offline provides an extra dimension for the production to take into account. For instance the sightlines for people in the room and online must be thought about. In reality, often one of the two (online or offline) is in the lead and the other is considered complementary.
Digital events always take place in an online environment instead of a physical location. Often broadcast from a studio or other space, and always without physical guests. Digital events in essence work with the same setup as live events, in terms of use of audio, video, camera operator etcetera. However, the end product is not shown on a large LED screen on a big stage, but a small picture on a TV or mobile device (phone/tablet).
Virtual events are an offshoot of digital events. They come closest to a live event in terms of look & feel due to the creative possibilities. You can position people (for instance keynote speakers) in a virtual environment by means of a green screen or in a tile with conference tools such as ms Teams or Zoom. Cameras register the virtual event, which footage we then bring back to look at in a digital way. Virtual events have an interactive character and provide many interactive opportunities such as polls, Q&A's and a timeline (graphically shown). 
In summary, there are multiple options for online events depending on your event needs and the amount of interaction that you are looking for, ranging from one-sided communication to interactive sessions, and to a dialogue. It is even possible to create a virtual environment with multiple touchpoints, where you are able to walk through a plenary session with your virtual avatar.

Even though COVID-19 will eventually go away, online events will remain. The audience reach is larger and the threshold lower, because with one click you can already be part of it. Creativity, good project management, switching between stakeholders and strong communication remain the key to successful online events.

At Unlimited Productions we accompany our clients to the best and most reliable events solutions. Are you interested in understanding how your event could work online? Get in touch with us via contact@unlimited-productions.com