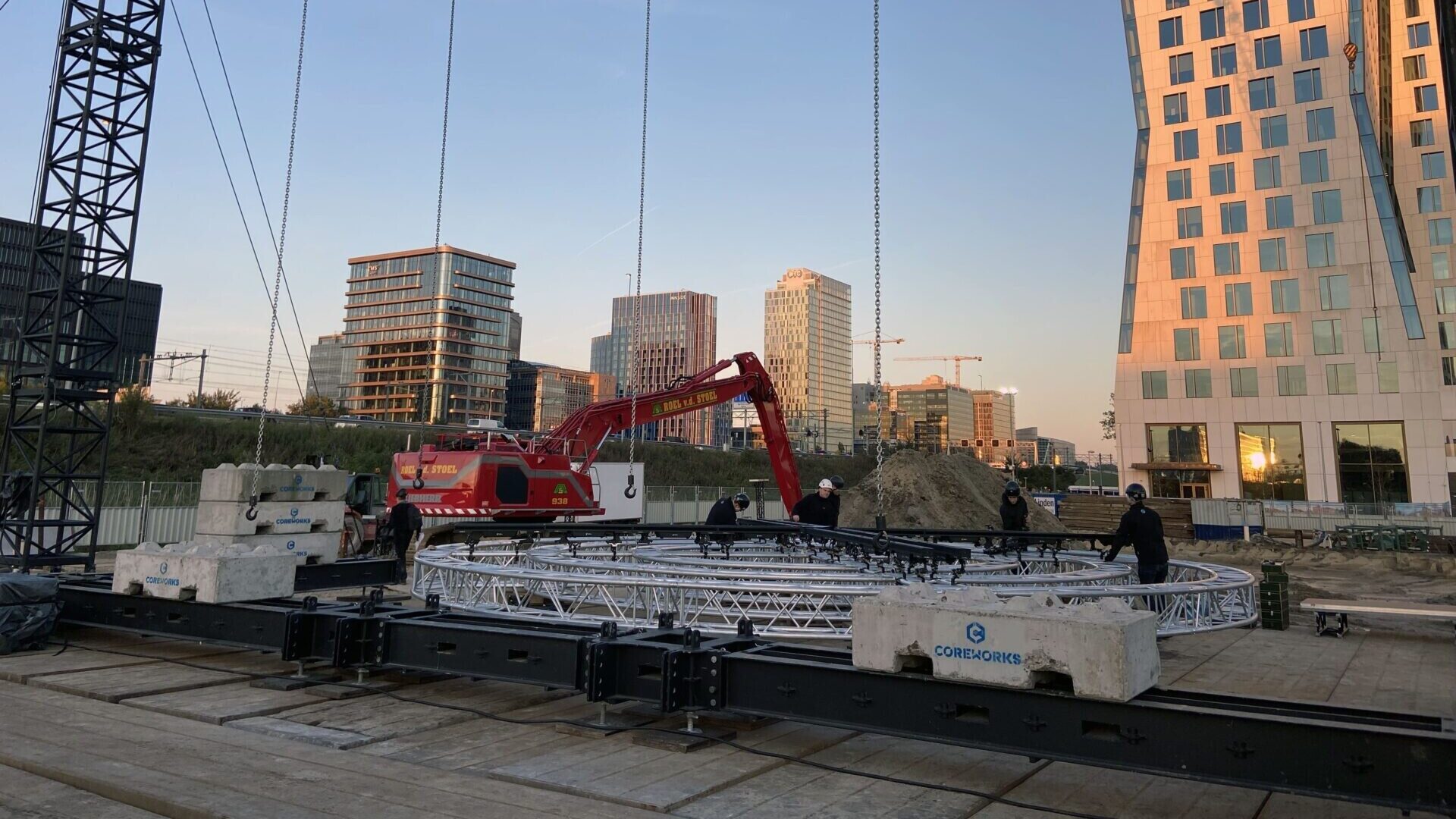 Productions at unique locations #1
Project: The Grand Opening show of 'De Puls'
In the upcoming blog series, we'll be highlighting a selection of our productions at unique locations. Each time we will feature a different, special location. As Unlimited Productions, we always focus on quality and how we can offer our clients a distinctive result. The outcome could be in design but also in supplies such as staging, structures, tents, sound-, video- & light equipment, power, machinery and decoration. Together with our clients and partners, we look for just that one special place where the concept comes into its own. In this article, we'll tell you everything about our production for The Grand Opening show of 'De Puls' at Zuidas, Amsterdam.
Currently, the location is still under construction, but when it's finished it will be an impressive piece of urban forest with a state-of-the-art office tower, a high-quality residential building and public facilities including cafés, restaurants, a cinema and a supermarket. 'De Puls' is centrally located and has a modern look and feel. Commissioned by SBV Event & Travel Consultancy, we provided the production for the grand opening of this construction site, including a massive black steel construction to give the right support for all the lights and lasers needed for the time code show and truss pillars with moving heads to accentuate the outlines of the building. In cooperation with Christiaan Bollen from Experience Conductor and the show designers from Live Legends, we created an impressive and complete sound- and light show through this construction. We are proud to have been able to contribute to this project. The high-attitude city park is under construction till 2024, so building this set up, among regular building activities, was a challenge for us.
''Delivering a high-end production on an active construction site was a big challenge as we were constantly adapting design, show and production to changing circumstances. Not only in pre-production but also on-site, till the last hours.''
Jan-Maarten | Head of Projects
Jan-Maarten, our Head of Projects, was responsible for managing this project. We had an interview to find out more!
What was the biggest challenge of this project?
The challenges in this project were the short lead time and the unique location, an active construction site. Together with Christiaan Bollen from Experience Conductor and the show designers from Live Legends, we went from the first brainstorm to execution in less than 4 weeks. During these 4 weeks, we constantly had to process major changes in design, show and production due to changing circumstances. Not only in pre-production but also on-site, till the last hours.
However, the biggest challenge was the location, particularly the construction site. With a real estate project of this size, you know that the construction must always move forward. This means that we constantly had to adapt to their planning and no day was the same. For example, we used truss pillars with moving heads to accentuate the outlines of the building, all evenly spaced and across from each other for the best possible show effect. On-site it turned out that new construction objects were placed on these outlines, forcing us to reposition and redesign. As soon as we solved this, the next day we were told the excavation work was moved forward, some parts of the construction were lowered 2 meters. This was also done in locations where either truss pillars, lights and other constructions were or would have been built, once again forcing us to redesign everything on the spot and receive additional or new materials within hours.
How did you cope with these challenges in pre-production and on-site?
Adapt, adapt and adapt. Even though we pre-produced everything thoroughly and consulted with both the construction site manager and client multiple times in advance, it turned out we had to look at it day by day. Communication, the right attitude and great partners in doing this is key. We quickly created a good relationship with the construction personnel, for example by grabbing these guys a hot lunch. In combination with open and respectful communication, we managed to work together. The partners we brought with us stepped up their game. They were adapting with us, delivering new materials, crew and thinking in on-site solutions within no time.
What else did you run into?
We could probably write a small book about just this specific production. We had a lot of fun and many things happened within the 5 production days. From lifting everything including machinery onto a centrally located platform across other active excavation works. To source, design and build a massive black steel construction within 36 hours. During the day, new circumstances kept on coming. For example, our team had to change the type of machinery up to 3 times. Because of the short time frame, this had to be arranged within hours. Furthermore, we were mounting light fixtures while concrete pillars were being driven into the ground and other foundation works, with steel and large cranes, were executed. All within meters of our team and project.
What did you like about this production?
The challenge and teamwork! We have the privilege to create many shows every year. These however stand out as you are pushed to the limits, which makes it even more satisfying. Working together with a team of highly-skilled, experienced and motivated people makes it even more fun.
Name the successes that have been achieved.
That's an easy one to appoint. The perfect execution of the show, of course. Seeing the entire show in just a few minutes running smoothly, after constantly changing and adapting, is great. We always strive for perfection and try to pre-produce and prepare every detail. Nothing can be taken for granted. In a show where this turned out to be almost impossible, it's great that it all comes together at the end.