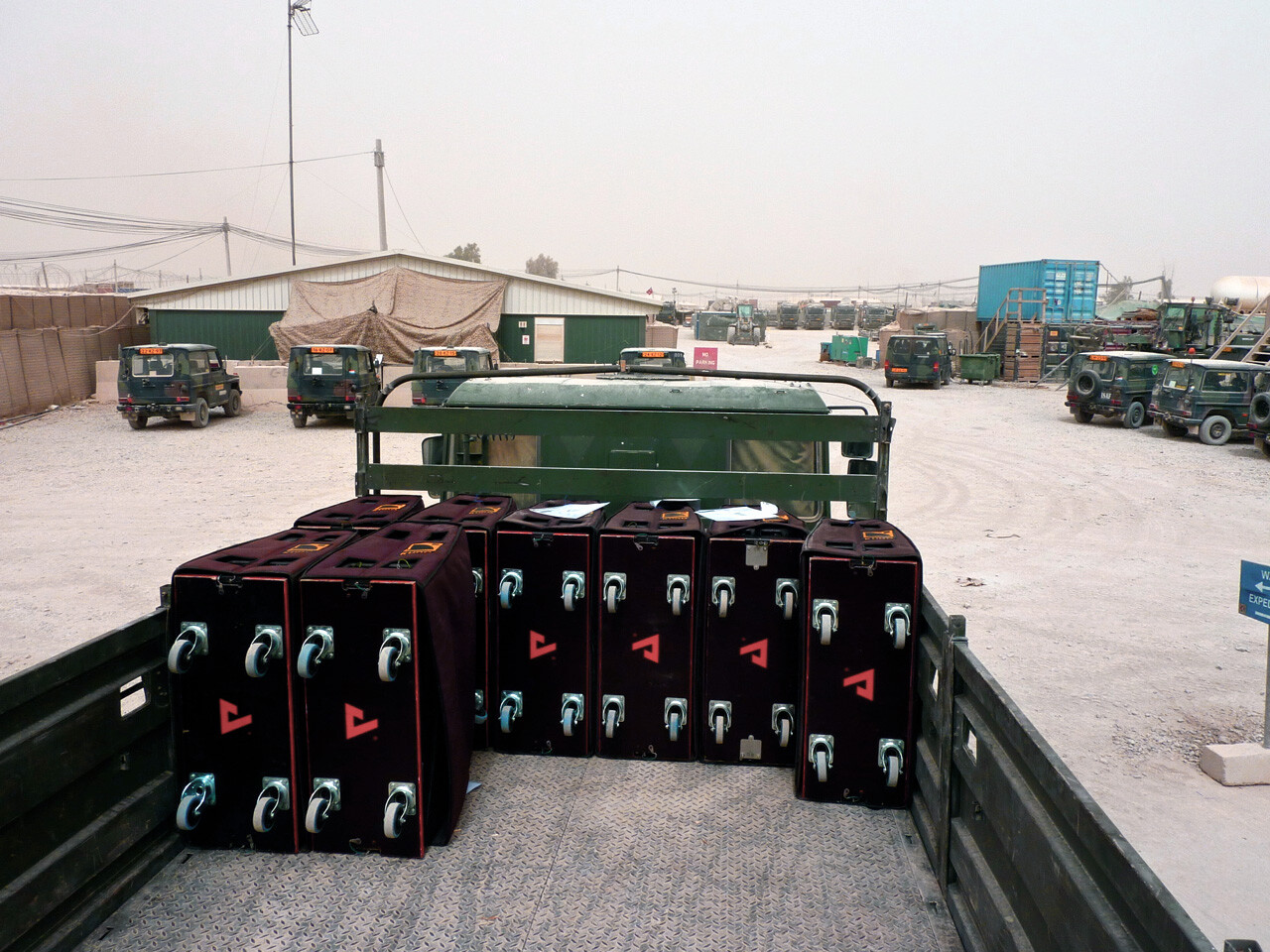 Productions at unique locations #4
Project: Kandahouse, Afghanistan
In this blog series, we'll be highlighting a selection of our productions at unique locations. Each time we will feature a different, special location. This time we share already the fourth article in the series. 12 years ago, we provided the production for a special event called: 'Kandahouse', especially for the Dutch armed forces, during the war in Afghanistan. In this article, we will tell you everything about this really special production.
In 2010, in the middle of the war in Afghanistan, we were asked to provide the production for an event, especially for the Dutch armed forces in Afghanistan. Of course, you will first blink your eyes three times with such an exceptional request, but it is great to encourage these troops in Afghanistan. We delivered all the materials which were needed and made sure that the production was conducted correctly. All this in the middle of the war that was going on at that time. The event served as entertainment during their stressful job. Occasionally, they require distraction and relaxation in order to be able to function. For this event, we were asked by DJ and producer Kay Wilder to produce his concert. We knew Kay from the Dancetour shows where he performed a lot. After many preparations, he gave a unique 3-hour performance on Saturday August 28 at Kandahar Airfield. By Afghan standards, this was the largest event so far. The event was called Kandahouse and entertained many hundreds of military visitors on the outside area, the so-called 'Boardwalk'. Previously, artists such as Katy Melua, Whitney Houston and Jan Smit traveled to Kandahar to perform.
To offer such an impressive event for the Dutch armed forces in the middle of the war, standing there with their guns, alert for 24 hours a day without their families nearby, preparing for a possible attack to come. Just impressive!

Bart Roelen | Managing Director
Bart Roelen, our Managing Director, was overall responsible for this project and traveled together with Kay Wilder & Dirk Kemmer to Afghanistan in 2010. We had an interview with Bart to find out more!
What was the biggest challenge of this project?
Everything! As you might understand, the whole project was a challenge because it took place in Camp Kandahar, consisting of bunkers (blockhouses) where the Dutch armed forces lived, near the battlefield with ongoing attacks, sandstorms and extreme temperatures.
We had to be creative. In Camp Kandahar was some kind of terrace which could perfectly serve as the main stage. However, there was no equipment available at all, so no electricity, light, sound or rigging facilities. We had to improvise to create a great and massive event for the armed forces without having to carry too much equipment. All production equipment had to be shipped into Afghanistan. Although there was little space on the plane to store equipment because of course many primary needs had to be carried along. We were allowed to use only 2 or 3 air cargo pallet places. Everything we needed to achieve a high quality production had to fit in these cargo spots. Otherwise, it couldn't be transported to Afghanistan. Anyway, the biggest challenge was fitting the equipment into the limited cargo space.
How did you cope with these challenges in pre-production and on-site?
We only had a few weeks for the pre-production due to the fact that it was a last minute request. Besides the short timeframe, I was personally enjoying my holiday in Italy. The colleagues in our headquarters in Breda worked hard together with the AED Belgium team to allocate a nice package which suits the air cargo pallets which were assigned to us. Nevertheless, I controlled and supervised the project from a distance and because it wasn't our biggest production, implementation was certainly not impossible for us. We felt happy and proud to take care of this challenge.
The biggest challenge on-site was the location, for sure. Producing an event in the middle of the war in camp Kandahar, which isn't built to host events. Dealing with the 50-degree Celsius temperature that required our equipment to be cooled by mobile air conditioning units to prevent overheating, sand storms, air & ground attacks, dealing with the local rules and regulations was really challenging. With patience and good preparation we finally got to work, especially after a long flight in a Hercules C-130 with a dive landing into the dessert. Camp Kandahar is like a huge city since a lot of countries have housed their armed forces there. So from Starbucks till Pizza Hut, all was brought in, the same with all production items we needed. We had to be creative in every aspect. Decoration had to be made on site by using army nets, collecting and using the right power generators to give the right power to all the equipment, scouting and adjusting the physical DJ booth. In addition, I needed a place to prep the set, so they gave me the hangar where a broken F16 Fighting Falcon was stored, and couldn't find a better spot. The Dutch forces and teams on site were very helpful and we did this all together and made friends for life.
What else did you run into?
The transfer from Eindhoven Airport to Dubai, toward the destination in Afghanistan, was very exciting. Due to the stopover and bad weather situation in Afghanistan, we had to spend the night in Dubai in small cabins between the armed forces. We had to fit army shards vests and helmets which we had to wear at our final destination in Afghanistan. Soldiers gave instructions about safety control and how to use the safety equipment such as the helmets and vests. Besides, we got a short training about air- and ground attacks before we landed in Afghanistan. They called it the 'Giraffe' surveillance system. We had to know the consequences and how we get to a bunker quickly when an attack starts. Furthermore, they prepared us for sandstorms, which I have experienced by the way and that's really intense to deal with.
What did you like about this production?
I really loved the entire challenge! To offer such an impressive event for the Dutch armed forces in the middle of the war, standing there with their guns, alert for 24 hours a day without their families nearby, preparing for a possible attack to come. Just impressive! We experienced one ground attack and one air attack during this project. I am thankful for the 8 days we were at that special location to produce the best we could to give these people in Camp Kandahar a unique experience. It is almost unbelievable, but the soldiers bring their own Pizza Hut, Starbucks and all what they need to make survival tolerable. Besides, I thought it was very special to drive in an armored car to the border where we've seen a minefield in real life. For once in my life I sat in an F16 and a helicopter and had to sleep in the campsite and had dinner at large dining rooms together with the armed forces. The Dutch armed forces took excellent care of us, so we never felt unsafe.
In short, it maybe sounds weird, but this is one of my greatest experiences ever! As I would say: ''I enjoyed the toys for boys'', you know: Helicopters, fighter jets, tanks and excitement. It's all very marvelous.
Name the successes that have been achieved.
That's simple to answer. Delivering all the equipment by air cargo on time, create a successful event where everyone could enjoy the show and feel confident, relaxed and free for just one moment in a stressful environment. Most of the forces are housed there for more than 6 months without seeing their family & friends, and it is so special to see them having a great time. I'm proud of the end result. All the equipment returned safely and everyone came back safe. A great success which we will never forget. Again, a big thanks to Kay Wilder & Dirk Kemmer and special thanks to the ministry of defense.