Productions at unique locations #3
Project: City Racing, Rotterdam
In this blog series, we'll be highlighting a selection of our productions at unique locations. Each time we will feature a different, special location. This time we share the third article in the series. From 2005 until 2009 we were responsible for building the VIP area including all the VIP facilities of City Racing Rotterdam. From 2009 to 2014 we also took care of the entire technical production, logistic coordination and site production. In this article, we will tell you everything about the nine years that we contributed to this special production.
Commissioned by Rotterdam Racing, we were responsible for the entire technical production for this spectacular sport event, with the focus on site production such as the delivery of fencing, tents, units, stands and machinery. We participated in this event with Livetime Productions at the time. City Racing Rotterdam took place from 2005 until 2014. Each year we managed to convert the center of Rotterdam in several phases into an F1 circuit (the track itself only 24 hours in advance). This production is spectacular because of various technical aspects, such as an enormous amount of wireless screens, music- and sound systems around the area and a TV connection for the live TV broadcast. In addition, the event was attended by hundreds of thousands of visitors and many F1 teams have participated over the years, for example Max Verstappen and his Red Bull team.
Experiencing such a big sport event with more than 500K visitors, the speed of the racing cars across the 'Willemsbrug' in Rotterdam, 'De Coolsingel' filled with enthusiastic crowd and the 'Hofplein' where drivers showed their best donuts is just great!

Maarten Lamers | Head of Accounts
Maarten Lamers, our Head of Accounts, was overall responsible and directed our team during this project. We had an interview with Maarten to find out more!
What was the biggest challenge of this project?
The biggest challenge of this project was the fact that we were working in one of the biggest city areas of The Netherlands that is inhabited and always vibrant and crowded. This means that we had to deal with a lot of traffic and surrounding homes, where 'normal life' had to move on for as long as possible. Of course, the local residents had to experience as little nuisance as possible during the event. For this big city race, we had to close public roads in order to be able to run the race safely in the middle of the city of Rotterdam, including installation of barriers and traffic signs. In order to keep disruption of regular traffic flow to a minimum, the city council kept these roads open for as long as possible during the construction phase. That is why we had a short and strict time schedule to realize the project with all its elements. We worked with a fixed schedule, for 24 hours a day, to take advantage of all the time we had. Every year we started building on Friday's around 6PM, straight after rush hour, to finish dismantling on Monday 4PM. In conclusion, it was a challenging job working in a dynamic environment, but we have always been able to meet our deadlines by constantly monitoring the planning.
How did you cope with these challenges in pre-production and on-site?
A lot of consultation with the city council is most important within this project. We always tried to push the deadlines to buy us some extra time, as we always can use that one extra hour during production to fine tune and achieve an even more perfect result. Furthermore, as time is precious, we needed to make straight forward agreements with our crew, partners and suppliers to make sure that they didn't all arrive at the same time and adhere to the time slots provided. Given the size and the complexity of the production, we had to divide the project into several smaller parts, each with its own dedicated production team. This all in order to gain focus on all separate zones. For example, one team contributed to the paddock area, one to the VIP village and another team worked on the track.
What else did you run into?
A city like Rotterdam is evolving constantly, and obviously we had to deal with changes every year. For example, it could just happen that the area where we normally positioned the grandstand couldn't be used again because of road works or the area where the VIP compound was situated turned into a building site. This means every year we had to fine tune the opportunities with the city council well in advance. Questions such as 'What is and what is no longer possible?' or 'How can this be achieved in a different way?' had to be posed. All this to make sure we didn't run into unpleasant surprises on site.
What did you like about this production?
Obviously, the whole concept is just awesome and speaks for itself! Experiencing such a big sport event with more than 500K visitors, the speed of the racing cars across the 'Willemsbrug' in Rotterdam, 'De Coolsingel' filled with enthusiastic crowd and the 'Hofplein' where drivers showed their best donuts is just great! Lastly, the fact that this event was well-received by the public makes it even nicer. Everyone felt excited. I look back on impressive years of production and feel proud and happy of the results we've achieved together.
Name the successes that have been achieved.
That seems really clear to me. We have been able to produce this project for a number of years in a row, from 2005-2014, and it's great to realize how the production has grown in many ways. By being critical and open-minded at the same time, we became more and more efficient over the years within we were allowed to produce this event. Within the imposed frameworks, we have always been able to create clear outlines in our planning and delivered safe and on time, both in the construction phase and the dismantling. The final edition was really high profiled. These years of production were incredibly successful.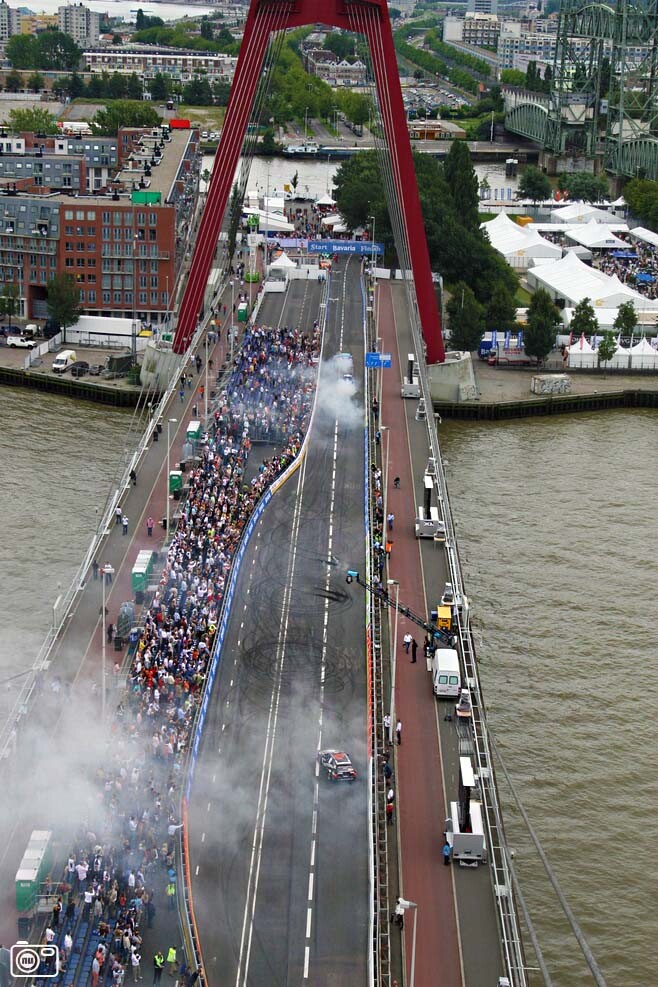 Photos by: Marcel Jöris, Dirk & Volkert