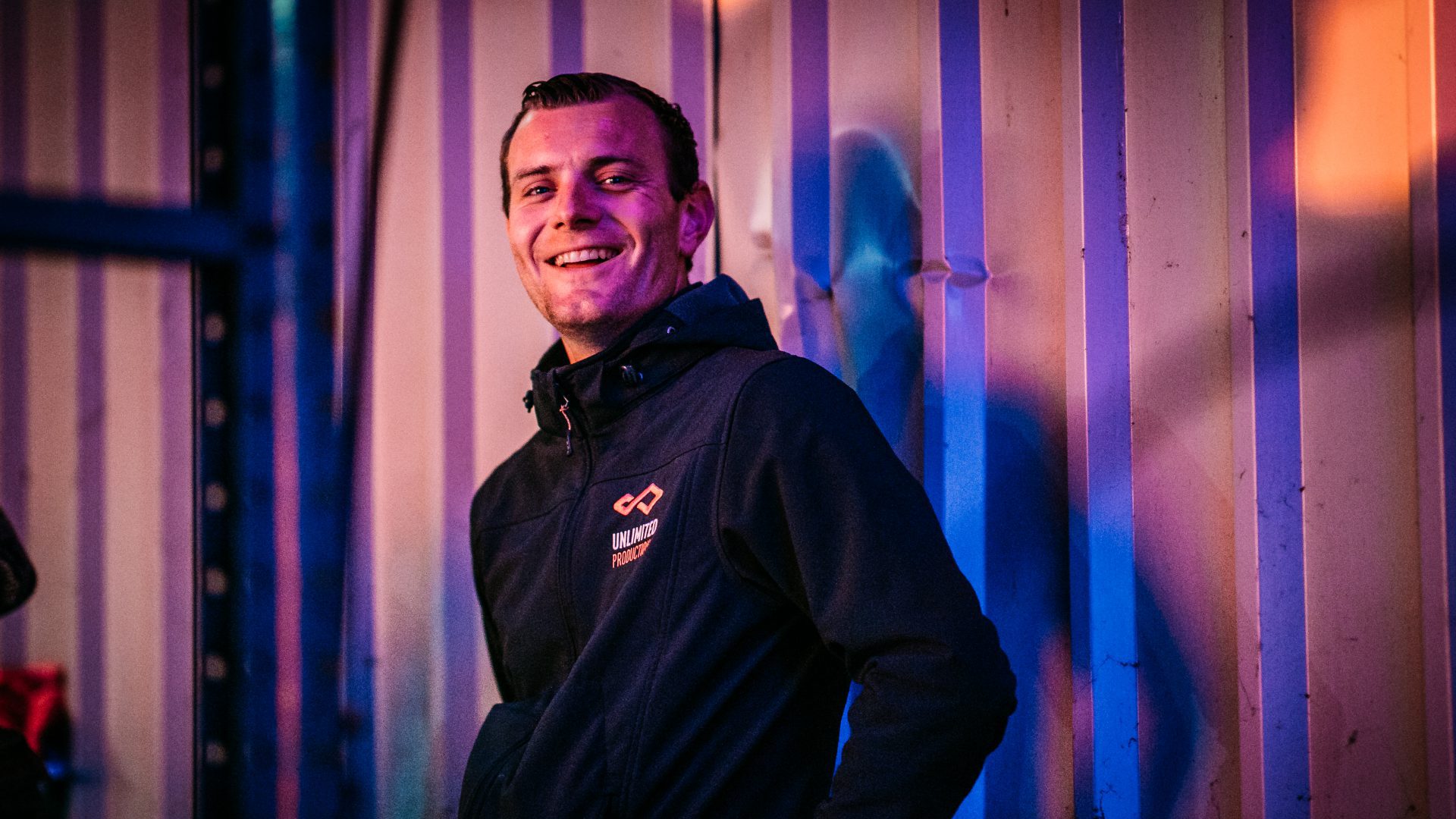 Meet the team: Maarten Schuurman
Commitment, flexibility and teamwork are some of the qualities of our crew. Unlimited Productions offers the creative and technical expertise to make your event memorable and effective. Because you might not know all the faces behind Unlimited Productions, we'd like to introduce the team to you, one by one.
Next up: Maarten Schuurman
Hi! Who are you and what's your role?
I'm Maarten Schuurman, 29 years old and I live in De Bilt (near Utrecht). I have been working for Unlimited Productions since April 2018 on a variety of projects as production manager.

How did you end up at Unlimited Productions?
The last 10 years I worked in the event branch as project manager for mainly international sport events (golf, short track speed skating, beach volleyball etc.). I was responsible for the site production of these events, transport plans, crowd control, permits and a lot more. In 2018 I decided to take the next step and follow my passion for producing events. I went for an interview with Willem Loos and I felt welcome right away. He and the rest of the Unlimited Production team gave me the opportunity to develop myself in all audio-visual/technical aspects of this branch. I knew all the basics but wanted and needed to go more into detail. I'm very happy to be part of the Unlimited Productions family now and to increase my knowledge every day.
Can you tell us a bit about your day?
There is no such thing as a regular day while working at Unlimited Productions. Every day is different!
What's the best part of your job?
The variety of the projects, different aspects of work and different clients/suppliers is what I love most. Not one day is the same! One day I make technical drawings or a production planning at the office, the next day I stand outdoors at an event location. Also solving the (technical) challenges that we face every day and the extensive knowledge we need, is what me gives a lot of energy.
What makes working for Unlimited Productions great?
Unlimited Productions is one big warm family. The team is very dedicated and motivated, but on the other hand there is enough time to laugh and make fun with each other as well. If you have a personal goal for learning specific (technical production related) subjects, they will try to help you and expand your knowledge.

What makes Unlimited Productions different from other technical production companies?
We have experts of practically every (technical) event related discipline in-house, so we can be a full service technical production company. We don't take no for an answer and the entire crew is very flexible and dedicated to achieve the best possible result.
What has been your favourite Unlimited Production so far?
Since I have only been working for Unlimited Productions less than a year, it is hard to select the one I like most. But I think the production for Akzo Nobel / Nouryon is my favourite so far, because of the combination of disciplines with AV and site production.

What advice would you give anyone who is thinking of organising an event?
Start with the basics: what do you want to achieve with the event, what is the purpose and your goal. Then make a list with "need to haves" and "nice to haves" and a budget estimation. Then talk to experts to discuss what is possible within the budget and let them help you to achieve your preferred look and your goals. Talking with experts in an early phase will help you to run your event smoothly within budget and without any unexpected surprises.

What do you do in your free time?
On a day off I like making a trip on my motorcycle, visiting festivals and going out. Another thing I love to do is playing volleyball.
What inspires you?
Innovation in general and learning from other colleagues, clients and suppliers.
If you did not do your current job, what would you like to do?
To be honest, I don't really know… I'd probably work on other aspects within the event industry.

What is one word that you would use to describe your team?
Motivated.