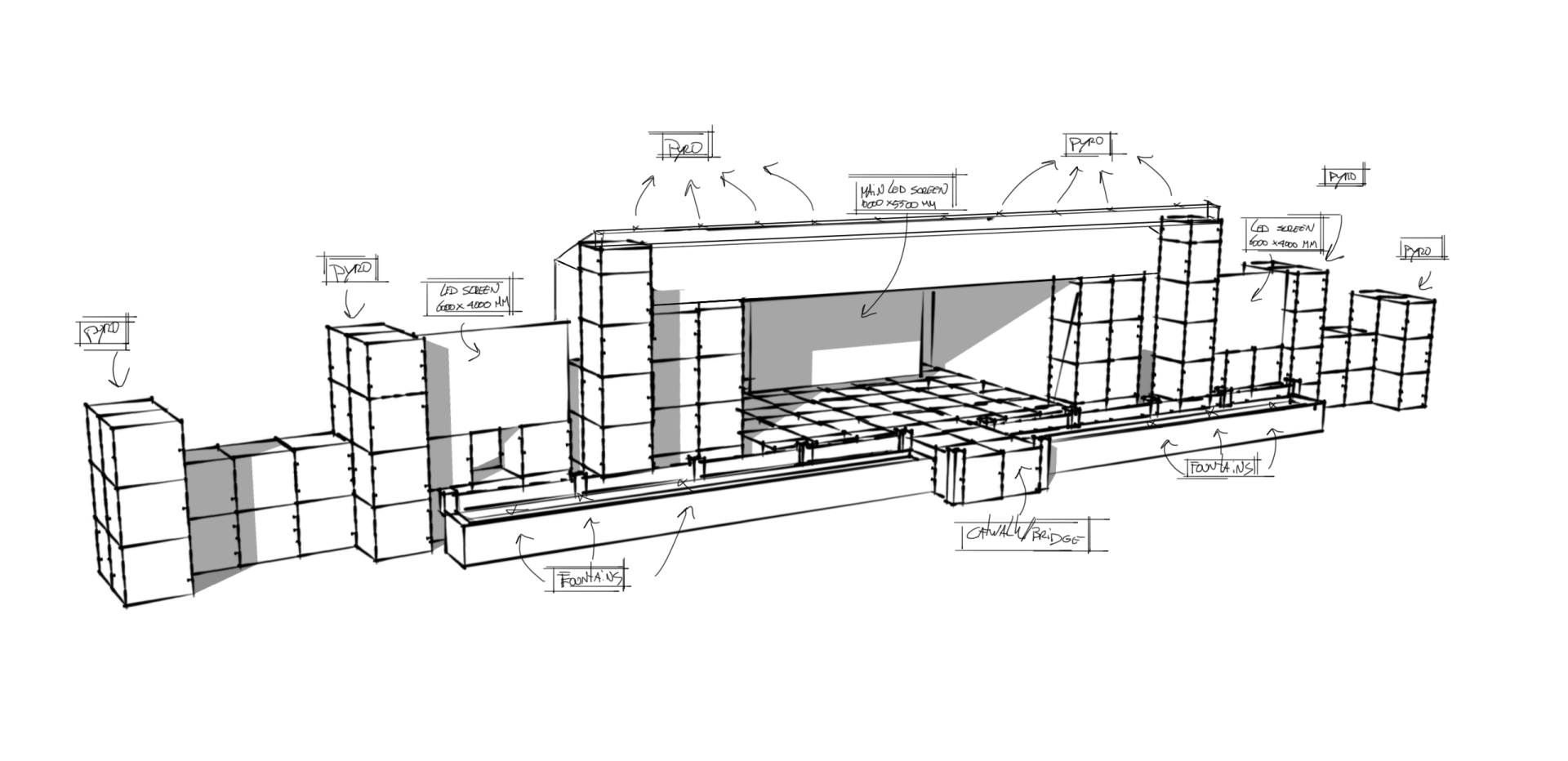 Breda Live; from definition to production
At Unlimited Productions, we use a four fase blueprint with a key focus on event- and production management, during which we accompany our clients from definition to concept, into pre-production and technical production.
What element do these fases contain and how do they take shape when working on a project? Let us guide you through the different stages and give some concrete examples of a project we've been working on recently; Breda Live.
For the 7th year in a row Unlimited Productions was asked to do the full technical production of Breda Live. This year we also delivered a proposal for the stage design.
After the kick off with an initial briefing of the client, we discussed the expectations and first ideas for the 2016 edition. We then defined the step by step process needed to establish, build and deliver these expectations and imaginations.
The new stage design of Breda Live had to be impressive to the visitors. And it needed to be part of their Breda Live experience. They needed to feel part of the event. Seeing almost all of the visitors have a strong connection to Breda, the choice was simple. A stage with recognisable, distinctive buildings. In the definition phase initial sketches of the design were made. After the sketches, the outlines for the artwork were determined. These outlines became more detailed graphic renders.
In the concept phase all concept outlines and technical aspects were merged into a master technical drawing format. This format provides all necessary data for pre-production and budget allocation. Also during the concept phase the idea was born to use the towers of the buildings to incorporate the special effects in. Unlimited FX, a subsidary of Unlimited Productions, prepared all special effects. From Co2 and Flame effects to Pyrotechnics.
During pre-production all details could be fine-tuned between the several disciplines involved. Think of planning & communication, back office, budget allocation & control, updates of all drawings, delivery of the production book, pre- programming for all AV & content disciplines and risk assessment. The final stage design was printed on wood and banners with a new 3D technique.
Production took place at the Chasseveld in Breda. The operational production team, vendors and suppliers made sure all aspects (sound, light, video, rigging, staging, structures) were ready in time for the event. During the day Unlimited Productions made sure production, logistic, health & safety management and the overall event management were running smooth.
With an excellent team, dedicated crew, sunny weather and an enthusiastic crowd, we look back on a great edition.