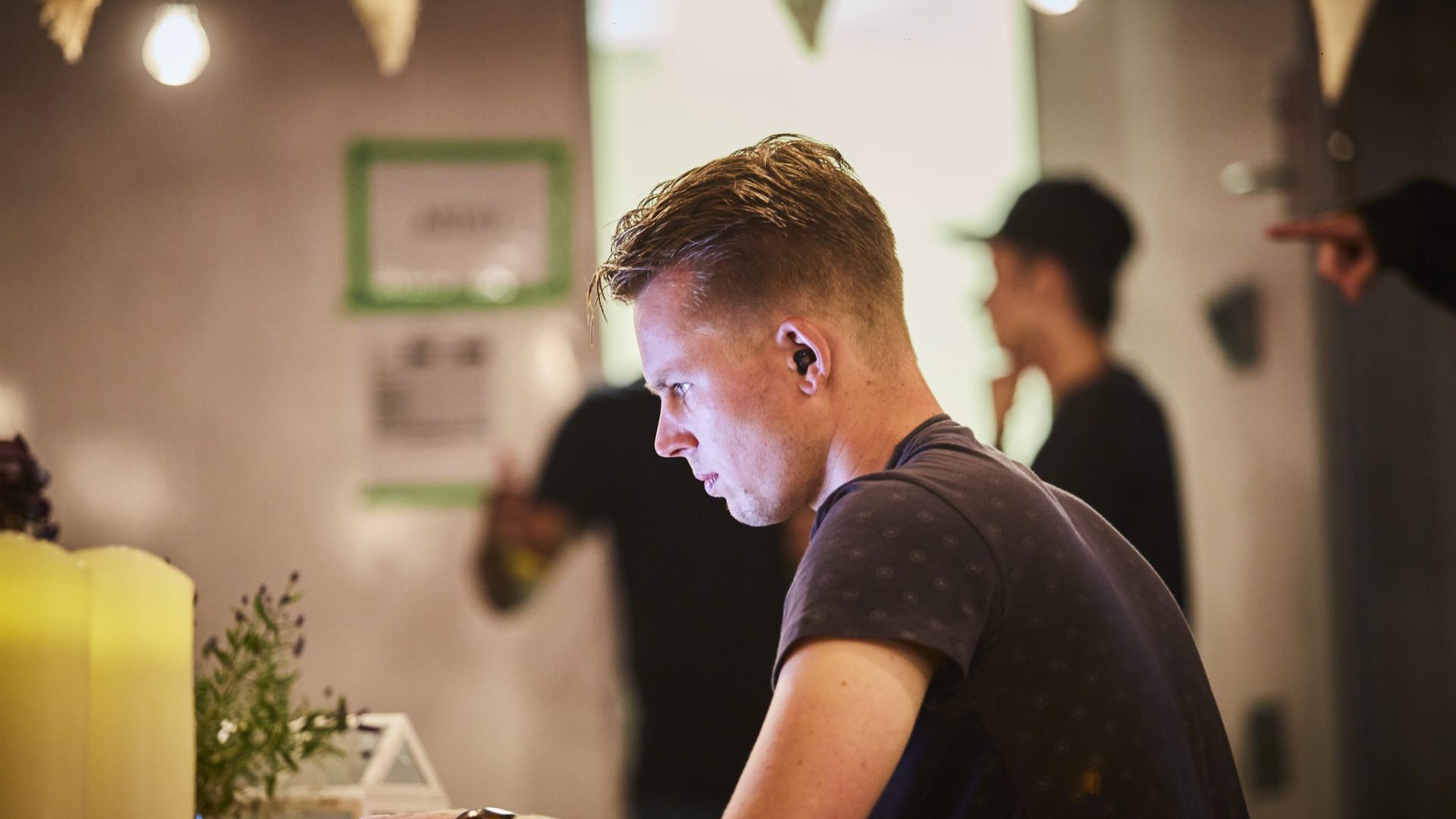 Meet the team: Thomas Isarin
Commitment,
flexibility and teamwork are some of the qualities of our crew.
Unlimited Productions offers the creative and technical expertise to make your event effective & memorable. 
Because you might not know all the faces behind Unlimited Productions, we'd like to introduce the team to you, one by one. 
Next up, Thomas Isarin
Hi, please introduce yourself! Who are you and what's your role?
Thomas Isarin, born and raised in Dordrecht and still a proud citizen of the oldest city of Holland. The biggest part of my activities is being a project manager on the different projects we have. Besides the project manager role I also play a part in all ICT related tools that support all employees with their various tasks.
How did you end up at Unlimited Productions?
After finishing my bachelor degree I started working at BOD events who is the events company behind Dancetour, Breda Live and Wantijpop. During that period Unlimited Productions was introduced to BOD events because BOD events booked Tiësto for their Breda Live show. After this event, the very first Breda Live, Unlimited Productions became the technical production partner of BOD events. Some shows, chats (and drinks) with Bart ended up for me to make the switch from BOD Events to Unlimited Productions and I've been happily working here for almost 6 years!
Can you tell us a bit about your day?
Not a single day is the same working at Unlimited Productions. Let's say 50% of the time I'm working behind a desk preparing shows. As project managers we are flexible to either work from home or at the office in Breda. When I'm in Breda a good combination of work, collaboration and fun with colleagues is guaranteed. Other times I'm on the road traveling to a production or busy at the production itself. The load in and load out days are the busiest. They consist of managing the production, dealing with challenges and maintaining quality of the end product, all in good collaboration with our vendors and clients.
What was your most recent production? How was it?
My latest project was a corporate show in Munich. A pretty straight forward show of 3 days with keynote speakers and some workshops during the day. The venue had a good local technical vendor so we agreed on using local equipment and flew in our own show crew to make sure the actual output on audio, video and lighting was there. A smooth production from the load in and load out as well as rehearsals and show. By bringing in our own show team we were very flexible on last minute changes and requests.
What's next on your agenda?
The next stop is producing a press conference on the IFA in the Messe Berlin. Working at the Messe during the IFA will be a logistic puzzle. The show itself is less than an hour but this is thé press conference of the year so detail in the look and feel as well as technical execution is key.
Three must haves during production?
A good bed to make sure the few hours we have count. If this is not the case, a good hotel bar will ease the pain and will help get you to sleep. You would say some tools and a laptop, but for me a fun and dedicated team would be a must have. As long as the motivation and fun is within the team, no matter the situation, we will figure it out together and create beautiful things.
What makes working for Unlimited Productions great?
The flexibility and diversity in work. The company is all about output and not just about hours and numbers. We have a fun, motivated and young team who works closely together and will always support each other.
An what has been your favourite Unlimited Production so far?
The most fun would be the MagicBox area project at Tinderbox festival. Building a stage from scratch and see it come to life is the most satisfying thing.
What is one word that you would use to describe your team?
"Prettig gestoord". I don't have a good english translation but it comes down to a group of honest, hard working people with dedication in everything we do.
What makes Unlimited Productions different from other technical production companies?
I have not worked at any other technical production company, but in the end I think we are well willing to move with the client and be as flexible as possible and always keep our focus on the end goal to keep quality throughout the process.
What's the best part of your job?
See new places every project and meet new people and collaborating with them.
What advice would you give anyone who is thinking of organising an event?
Be good for your crew and the crew will be good for you!
What was your best improvising moment on a production?
This would be a show we did in Moscow. We were doing local production for a 48-hour long event with various artists throughout the 48-hours, non stop. A lot of vague communication and waiting and little response from the local parties for the load in day. Eventually we never went to the venue of the load in and were told we would see the venue and the set on show day 1. However, 2 hours before the doors would open, the venue was closed by the landlord so we had to move to another location. There was already a band performing that night and we had to set up and start show after them and had to build an entire light, video and audio set from scratch in less than 1 hour. One big hectic adventure which we still laugh about very often.
What do you do with your free time?
I sport a lot. It's my way of relaxing and have a "reset".
Can you tell us something most people don't know of you?
I'm the spare CEO of the company 😉
Please come up with a question for your colleague that will get the interview next.
You have to live on a island for the rest of your life, you can only bring 1 item or person with you. What or who would it be and why?